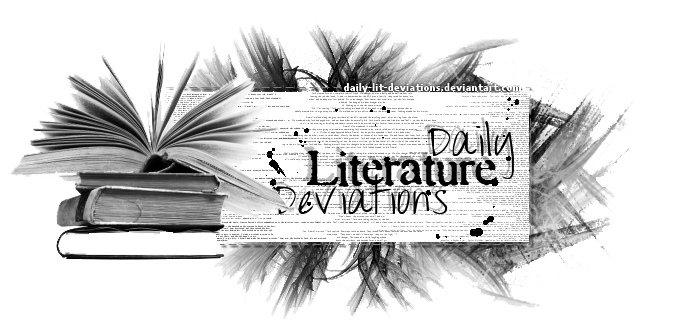 Guidelines
|
How to Suggest a DLD
|
Group Administrators
|
Affiliation
|
Chatroom
|
Current Staff Openings
Daily Lit Deviations for August 27th, 2012
We are proud to feature today's Daily Literature Deviations!

You can show your support by

ing this News Article.
Please comment and

the features and congratulate the artists!

For all of the featured artists:
If you receive a DD for one
of your pieces featured by DLD please note LiliWrites.
We will include you and your piece in a special recognition news article.

Poetry
Featured by VicariouSoul
:thumb322655447:
Divorce
by
pomohippie7
This poem somehow makes you feel like you are a part
of what is happening, caught in the Author's built-up frustration(s).
Featured by: Nichrysalis

RecollectionsTan-orange waves break
Upon a magenta
Ocean.
Someone
Is touching my shoulder,
Their purple breathing
Overwhelming my mind.
Why
Am I lying on the
Floor?
And now I see that grey footprints
Surround me,
Encircle me and then fade.
Solid, translucent,
Gone.
Just as I open my eyes,
More voices are starting.
The overwhelming medley that
Usually, I can recognize,
Is pushing me back into a gaping
Darkness.
What has happened to me?
Between sharp bursts of color,
I can see eyes,
And the eyes see mine.
Someone is pushing me upright,
Repeating my name,
A fire-red mantra.
My own voice is shuddery,
A small purple cloud,
Dying on my lips.
My teacher rushed over,
Fast dark grey footprints,
Her voice loud, wiping the world
Clean with slate blue-grey.
I cannot see a thing,
And I feel my eyes begin
To close.
More footprints, somehow
Lighter,
Just as fast.
And I open my eyes,
Reaching out for my friend's
Outstretched hand.
She sits down,
There are more footprints,
Spreading rising voices.
I can
Recollections
by
Synesthi
Most people think of Synesthesia as the ideal disease to have,
but it is not a blessing for those who suffer from it,
as shown by this traumatic experience.
Prose
Featured by: doodlerTM

InterruptionFemale.
Asian-American.
Freshman.
4.0 GPA.
She ticked off each box with a neat black check mark. The study hall chattered in a hushed tone, warming the room with its sound. Despite that warmth, the girl shivered and looked around at her other friends' pages. Some answered truthfully, and some wanted to throw a wrench into the AP Statistics students' results and offer bizarre responses.
Slightly excited at what this next questionnaire would bring, she trudged on through the questions.
"These questions don't even make any sense! Nobody rides a llama to school!" The table erupted in laughter.
"If you think the questions are bad, look at my answers." One boy said smugly. "I'm a male Asian-American senior, six foot five, with a 3.0 GPA. I ride my bike to school and don't play sports...my favorite subject is world language, even though I wrote that I only speak one: American." There were murmurs of amusement, and everyone resumed completing their surveys.
Please try to answer honestly,
Interruption
by
Lucarioblaze
A piece that has a powerful impact about how much
people might hide from others - and themselves.
Featured by: SilverInkblot

Death's ReprieveHe is a god in Armani, stepping under the clinking bell at the coffee shop door. Features crisp and dark as a hawk, he sweeps eyes set with death over the room. The shop buzzes with life and the scent of java.
No one looks his way.
He skims the wooden counters, the motley assortment of chairs and people. Beside him, a businessman resumes clacking on his laptop keyboard, the momentary pause slipping his mind. Baristas return to the swirl and whir of their machines, brushing at coffee stains on black aprons as if suddenly aware of every imperfection. Customers falter in idle conversation, words they held a moment ago lost to their tongues. An older couple in the middle of the room lets the silence settle around them as if used to it, a slice of coffeecake untouched between them.
They do not concern him. He has come only for her.
She sits in the far corner, her back to the door. To him. She will not turn, though she is the only one in the room able to meet his gaze. His footsteps are sile
Death's Reprieve
by
Pailei
A wonderfully modern retelling of Hades and Persephone
with a great opening and quiet tension that hooks you right in.
Featured by: xlntwtch

Yesterday I Heard the RainYesterday I easily danced on the stars… one foot landing steadily on the next destination while still in mid flight from last step. Yesterday I was powerful. Or, was that really yesterday and not just an illusion or trick of my mind? Can one be sure? The simple minded fellow will argue the point yes or no. The philosopher will examine the merits and meaning of the question. The scientist will try to quantify the question and establish methods for proving his theory. But the one in love just smiles and is grateful to have had a yesterday and today with her lover and believes there is hope for a bright tomorrow.
Today I have no power. I arose with hopes and expectations. By mid morning I knew that none of them would be fulfilled today… maybe never. Yesterday I poured out my heart and my soul yet made a regretful mistake while speaking. I spoke of a new realization… a new found depth of love in my heart. But this is a tragic mistake when two hearts are ablaze over flames of
Yesterday I Heard the Rain
by
StickANeedleInMyEye
This brief non-fiction progresses through time and
corresponding emotion. Each day's marvels are mentioned
until the unexpected happens, leading to a terrific last line.
For more information, including how to suggest a Deviation
to be featured, please visit us at
DailyLitDeviations
.
Thanks so much for supporting the lit community and this project!
~ The
DailyLitDeviations
Team ~
Prepared by: SilverInkblot