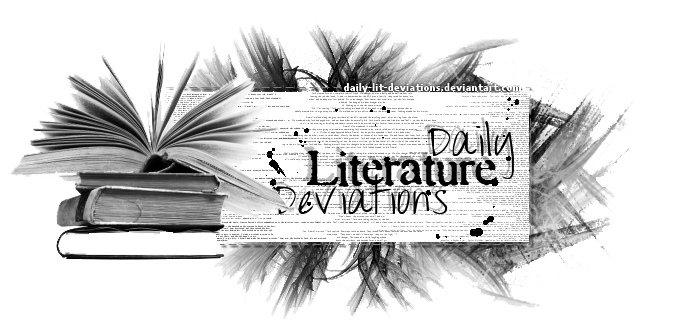 Guidelines
|
How to Suggest a DLD
|
Group Administrators
|
Affiliation
|
Chatroom
|
Current Staff Openings
Daily Lit Deviations for August 23rd, 2012
We are proud to feature today's Daily Literature Deviations!

You can show your support by

ing this News Article.
Please comment and

the features and congratulate the artists!

For all of the featured artists:
If you receive a DD for one
of your pieces featured by DLD please note `Kneeling-Glory.
We will include you and your piece in a special recognition news article.

Poetry
Featured by: =LadyofGaerdon

The Witch's Admirers Simple etiquette
edict
eve
Simple breath
and simple needs
poisoned
so sweetly
so neatly
displaced
would never
ever
letter
for another space to be.
Dreams, softly
but fruit is costly
and bones are far from rot.
Why do you burn me,
for perils I have with fraught?

(~ frightened by the powers, that we have not ~)
The Witch's Admirers
by *
lantern-rose
Excellent rhythm and diction, and an
unconventional rhyme scheme and
structure really bring this piece to life.
Featured by: =TwilightPoetess

Other Girlsit's not a simple thing
reading old magazines
like that
by yourself
like other girls
with other girls
in the same room
with the same shame
but they're not you
and they weren't there
but they know
they know

Waiting rooms that get stuck in your joints
Like screwdrivers
flat heads
how different names seem spelt now
closer to a gamble than a title
now, you're gonna have to spell
selfish
differently
closer to this hell
than hellish

your good sense
chirps in your sleep
chips at your teeth
too smart for that
right?
too determined
too you (makes sense)
to end up like other girls
who look like other girls
with other g
Other Girls
by ~
Verbal-Relapse
We all know people who have made mistakes:
gotten hooked on drugs, gotten bullied at school,
gotten pregnant. In this poignant piece,
~Verbal-Relapse challenges readers to consider
what we usually don't: how easily we could
become "one of those people" or "one of those girls."
Featured by: =TwilightPoetess
Heaven -- Found Poetry
by ~
Flutingspirit
The art of a found poem is more difficult
than most people imagine--it includes scoping
out the right words, making them work together,
and still leaving the readers pondering.
~Flutingspirit does just that with this short piece.
What does Heaven look like to you?
Prose
Featured by *doodlerTM

Patty Fries FishPatty spent most of her time in front of the stove, hair pulled back in a ponytail at the back of her neck. Pots and pans and kettles bubbled and popped and whistled in front of her throughout the day, in fact.

It's not what she came to do. She came to help with the huge construction work. Living on-site, building something groundbreaking—it sounded great to her. Her mom didn't like the idea, but when did her mom like anything? Dangerous, she had told Patty.

It wasn't dangerous for her. She knew every machine, every lever, every button. She could feel them, feel their power. She'd run her hand along the dash of one and sing lullabies t
Patty Fries Fish
by ~
ninjababy
A wonderfully hilarious flash
fiction story about a woman who
accidentally gets revenge.
Featured by: ~Hesperie

IntriguedHe pushed open the heavy doors, thrice taller than himself, choking on dust and old things that had been sealed in the dank wood. The room he slipped into was ocean-dark, and had a dinstinct absentness of smell that could only mean it had never seen daylight.
It had, of course, seen moonlight. The very silken beams themselves filtered through haphazard drapes, which tattered fabrics hung so askew that it could only be the drapes of an abandoned castle. The moonbeams did not draw in dust moats like it's brother, but stilled the very air it graced, instead. And froze it half to death-bringing, he thought.
And the beam cast down from the high
"Intrigued"
by ~
HastyMage
With galleries full of gorgeous pictures
at our fingertips, it's easy to forget
sometimes that writers are artists, too. Their
medium is words, and in this case the image is of
a young woman sitting silently in a moon-lit room,
as seen by the boy who leads her away.
For more information, including how to suggest a Deviation
to be featured, please visit us at =
DailyLitDeviations
.
Thanks so much for supporting the lit community and this project!
~ The =
DailyLitDeviations
Team ~
Prepared by: =LadyofGaerdon