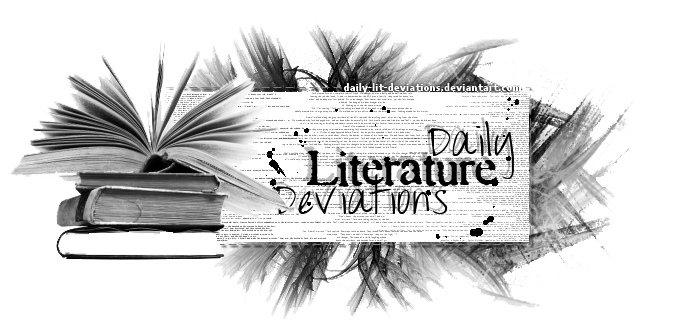 Guidelines
|
How to Suggest a DLD
|
Group Administrators
|
Affiliation
|
Chatroom
|
Current Staff Openings
Daily Lit Deviations for August 18th, 2013
We are proud to feature today's Daily Literature Deviations!

You can show your support by

ing this News Article.
Please comment and

the features and congratulate the artists!

For all of the featured artists:
If you receive a DD for one
of your pieces featured by DLD please note LiliWrites.
We will include you and your piece in a special recognition news article.

Poetry
Suggested by: cality
Featured by: betwixtthepages

Lately, the waitHighway traffic, seamless like the skies
of October; distant lights foretell
a visitor.
A gush of wind, a magnolia laden threshold.
Another blackout.
We share
the
much sought after
lunacy.[Lunar/lunatic]
Lately, the wait
by
MehreenFreed
From the suggester: The hushed tone
of this poem is quite lovely, and I love
how atmospheric it is. The formatting is
very interesting, too.
Suggested by: AyeAye12
Featured by: spoems

Twenty YearsWe're icebergs
disguising as ships.
We float along so aimlessly and
crash into this shit!
I can't make
the things you create.
You give and give and give and give and
all I do is take
what I want
and what I deserve.
Our boys are yours. Our girl is yours. Anne,
you've sure got some nerve!
Nobody loves me
like I do.
I push everyone away
and find someone new.
We're clean clothes
lying on the floor.
We love and leave and love and leave like
two revolving doors!
I should have
the praise and respect
of everyone and everything that
I have ever met.
Life is hard,
but I carry on.
You think what you want, but know this, Anne:
I'm never alone.
Nobody loves me
like I do.
I push everyone away
and find someone new.
We're children
hiding from a fight.
We close our eyes and close our ears, but
there's no end in sight.
I still love
all the things we made.
Though they turn their backs and walk away,
that will never change
how I feel.
What a thing to know:
Twenty years as a Godly man; Anne,
you reap what
Twenty Years
by
Gymdawg
Per the suggester: "Not only is
the rhyming clever, but it packs a
poignant punch with an edge of realism."
Suggested by: Nichrysalis
Featured by LadyofGaerdon

August Moon  
     Quiet night.
  I walk this umbra amid fallen ashen
      -my gait tempered in its shadow,
  Hear the north wind wake
      gentle and luke-warm
  Elevated into its murmer
      of lush, summer oaks that stir
  For now like curious whispers
      among their soft forebode;
 Then ranked breath and boreal chill  
        
   will rise, will fall 
  will lapse in it all.
  
 
   I'll wait for the ever lucid darkness
           
           that an August moon lead  
       
  For a small breeze, skulked into
      the penumbra of its rising limbs
 Like shadows once contemplated in silence,

August Moon
by
Fleeting-Epiphany
Suggester: This poem is
wonderfully atmospheric
thanks to the careful
formatting and use of language.
Prose
Suggested by: DailyBreadCafe
Featured by LadyofGaerdon

Door to DoorThe first time he had tried them, he cried, and the tears obscured his vision. He understood that was he was seeing was not the world around him, but something different. It was the world how it may be. The woman at the door had been correct, and through his tears he smiled.
"Hello, my name is Maddie." she had started, not deterred that she was one of the last remaining door-to-door salespeople in the world, or that she was trying to sell her product to a blind man. His cane had hit the door when he opened it, and Charlie, the dog, had given a little woof and wagged his tail at the company.
He supposed she looked him up and down. She was quiet for just a second before she continued.
"It's not everyday that I get to sell my product to someone who would appreciate it the way you might-- may I ask, were you ever sighted?"
He was taken aback, but found himself answering.
"I was-- years and years ago. Why?"
"What was it that made you lose your
Door to Door
by
Goldfish-In-Space
Suggester: An interesting idea,
and well written. What really
stands out to me is the way
she manages to neatly tie up
the beginning and end in a
circular plot structure. I just love it!
Suggested by: intricately-ordinary
Featured by: spoems
they were divorced before you cried
by
your-methamphetamine
Per the suggester: "I rarely read any [prose],
but the wordplay in this and the lasting message
are absolutely fantastic."
For more information, including how to suggest a Deviation
to be featured, please visit us at
DailyLitDeviations
.
Thanks so much for supporting the lit community and this project!
~ The
DailyLitDeviations
Team ~
Prepared by: spoems