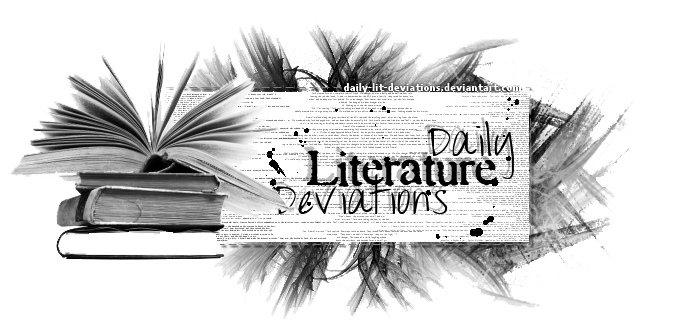 Guidelines
|
How to Suggest a DLD
|
Group Administrators
|
Affiliation
|
Chatroom
|
Current Staff Openings
Daily Lit Deviations for April 5th, 2012
We are proud to feature today's Daily Literature Deviations!

You can show your support by

ing this News Article.
Please comment and

the features and congratulate the artists!

For all of the featured artists:
If you receive a DD for one
of your pieces featured by DLD please note pullingcandy.
We will include you and your piece in a special recognition news article.

Poetry
Featured by: Carmalain7

The Painter And The VeteranHe wanted to pull out the pain
with a syringe, as if it were
black jelly that had accumulated
underneath his skin. This was
how morning welcomed him.
***
On saturday nights, he was
the kind of man who went around town
painting murals with a can. They
were gorgeous, especially when city
employees melted them with hose-water.
***
In America you can find dollar bills
stuck deep in the cracks between
sidewalks; you can find people stuck
deep in the cracks between
buildings too.
***
You can also find people inside
said buildings, inside beds,
inside...
***
One
and only one
night, the painter was approached
by a hairy young man with combat
boots who claimed to have fought in
Vietnam. The veteran put a grimy
paw on the painter's shoulder and
asked if he knew why airplanes
had so many windows.
***
The painter didn't
know, neither
of them had flown
before.
***
The veteran slurred with distinction that
before windows were on planes,
they were closed-off
plastic flying tubes. But,
one day every p
The Painter And The Veteran
by
FallingAsleepTonight
The effortless melding of modern, surrealist,
and metaphorical imagery in this piece paints a masterpiece
that will not wash away the next day.
Suggested by: projectilewordvomit
Featured by: betwixtthepages
"as you teach her to say yes"
by
injuredjaw
From the suggester: This is incredibly powerful
and drew me in straight from the beginning. It's bluntly
honest and raw, and carries an important story
that many women can relate to.
Prose
Suggested by: LadyofGaerdon
Featuired by: SilverInkblot
:thumb252904823:
The Word Dancer
by
HorsesofPoseidon
From the Suggester: "An inspiring, richly woven
metaphor, that speaks to the very essence of literature."
Featured by LiliWrites

Atlas was Smug

Ayn Rand's Atlas Shrugged is practically the bible of American libertarians.  Due to its cult popularity, I decided to write my own brief analysis of it.  It has the philosophical depth and evenhandedness of Mary Sues locking horns with cartoon villains, while the obvious self-insert protagonist (Dagny Taggart) has sex with all the male heroes.  In short, it's like Twilight for sociopaths.  And that isn't even the worst aspect of it…
For starters: a brief summary.  Hank Rearden is a self-made promethean innovator who invented a superior steel alloy.  His incompetent and unscrupulous rival, Orren Boyle, sells an inferior brand of steel.  With the help of the malevolent government, Boyle spreads propaganda that defames Rearden Steel to gain a competitive edge.  (Never mind that a crucial function of government is to prevent false advertising, slander, libel, and other deceptive pract
Atlas was Smug
by
BatmanWithBunnyEars
A short, purposefully controversial review
of Ayn Rand's famous novel Atlas Shrugged.
Foreign Language
Featured by shebledgreenink

J'AI VU TOMBER UN EMPIRE - I SAW THE FALL...(English version below)
J'ai vu tomber un Empire.
                                  À Marie.
Cité désagrégée par les vents de la guerre
Murs d'airain éventrés
Coeurs froissés à la peine un espoir comme cendres
Par-delà les tertres froids
Dialogue d'un être et d'un néant
Soi contre moi
Te bercer dans les bribes balbutiées
Fils d'argent d'un discours sur l'or de ton coeur lourd
La feinte du fantôme
Comment voguer ton orage profond
Troue les abysses épais d'éclairs vifs courroucés
Marie Porphyrogénète
Tes yeux sur les frontières sacrées de l'Ouest
Farouche Impératrice au
J'AI VU TOMBER UN EMPIRE
by
Exnihilo-nihil
There is a certain grace to this poem, a delightful
combination of the almighty and the fragile.
For more information, including how to suggest a Deviation
to be featured, please visit us at
DailyLitDeviations
.
Thanks so much for supporting the lit community and this project!
~ The
DailyLitDeviations
Team ~
Prepared by: LiliWrites