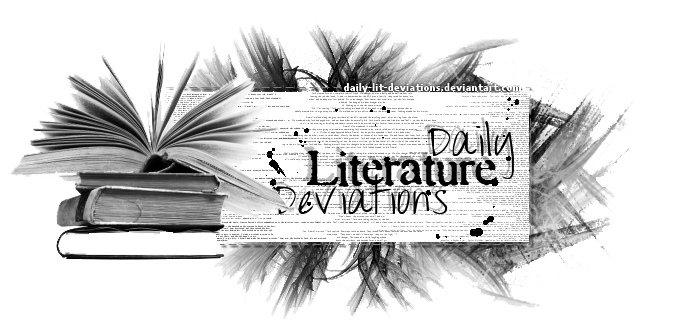 Guidelines
|
How to Suggest a DLD
|
Group Administrators
|
Affiliation
|
Chatroom
|
Current Staff Openings
Daily Lit Deviations for April 4th, 2014
We are proud to feature today's Daily Literature Deviations!

You can show your support by

ing this News Article.
Please comment and

the features and congratulate the artists!

For all of the featured artists:
If you receive a DD for one
of your pieces featured by DLD please note spoems.
We will include you and your piece in a special recognition news article.

Poetry
Featured by: betwixtthepages

Day 11Do the hard things--
not to prove yourself to them,
but prove yourself to you.
Day 11
by
hopeburnsblue
This senryu reminds us all to tackle the
hard things--not for others, but for ourselves.
Suggested by: chromeantennae
Featured by: DrippingWords

HeartacheThere's a reason why
both my heart and my gun
have empty chambers baby,
and it's you.
Heartache
by
BloodshotInk
Suggester says: "This piece is just so
beautiful, very emotional, but oh so beautiful."
Featured by: Nichrysalis
Qllau'si Flworren Li (Song From The Wall)
by
Yitik
An impressive feat of lingual creation
from a conlanguage creator extraordinaire. Yitik
not only composes the original language the
lyrics are then written in, but provides two possible
English translations and the opportunity to
learn the language word by word.
Prose
Featured by doodlerTM

Family FeudBig Sister is screaming again.
In a torrent of ice and hail, she is fuming and yelling, causing cold to blast from her mouth and through the room. Dear Mother is trying to calm her, to lead her to nap time, but Big Sister is struggling and weeping frosty tears from bright blue eyes. She doesn't want to nap. She's been allowed to play for far too long. It's Baby's turn, Mother shushes, but more tears come. More ice, more cries far and loud, more frosty flailing that sprays snow to the four winds.
Big Sister is screaming again.
A pair of big, doe-brown eyes peeps around the corner. She watches, in silence, the frigid display her sibling puts on for show. She's all ready: little sun dress bright with the coming blooms, hair smelling like the fresh earth, little shoes ready to walk the garden paths and hands warm like a pale May sun. She was certain...it was HER turn to play now, wasn't it?
Big Sister always puts up such a fuss.
She peers around the door to the living room, and stares in h
Family Feud
by
HeadmistressMercedes
A delightful personification of the
seasons in a short prose piece.
Suggested by: NamelessShe
Featured by: betwixtthepages

Give Me a Name"Excuse me, do I have a name? I think I should have a name, it seems only fitting that a living person should have a name." There were astonished stares at the human-like figure sitting on the table. There were scattered tools everywhere, everything from a screw driver to a soldering gun. Circuit boards and chipsets in static resistance bags were sitting neatly on shelves, and the sound of hard drives whirling could be heard over the amazed silence in the room.
"We've done it!" The room full of people jumped up and down, clapping their hands and laughing happily. "Six years of work and we've done it!"
"Excuse me, what have you done? What is my name? I need a name."
"You are not living, therefore you do not need a name, but you will have a designation. You will be Pal100."
"I am living! I can think for myself, I can move, I can do anything I want." The people in the room looked at the man who had been talking and quickly made themselves busy. No one wanted to explain these things,
Give Me a Name
by
DreamingAutumn
This short prose piece explores
human nature, gender, and personal
preferences in a touching, sweet way.
For more information, including how to suggest a Deviation
to be featured, please visit us at
DailyLitDeviations
.
Thanks so much for supporting the lit community and this project!
~ The
DailyLitDeviations
Team ~
Prepared by: DrippingWords