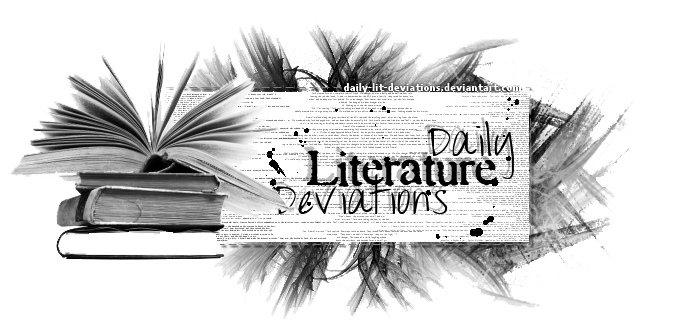 Guidelines
|
How to Suggest a DLD
|
Group Administrators
|
Affiliation
|
Chatroom
|
Current Staff Openings
Daily Lit Deviations for April 15th, 2013
We are proud to feature today's Daily Literature Deviations!

You can show your support by

ing this News Article.
Please comment and

the features and congratulate the artists!

For all of the featured artists:
If you receive a DD for one
of your pieces featured by DLD please note LiliWrites.
We will include you and your piece in a special recognition news article.

Poetry
Suggested by: sincebecomeswhy
Featured by: betwixtthepages

Nightmares.I tend to sleep
clutching my chest
my head under a pillow
to keep the monsters
from escaping
I would rather have them inside
feasting on my intestines
then abandon them to the night
That way I at the very least
have something to keep me
company
Nightmares.
by
ghearradh
There is a subtle, intriguing sense of mystery to this piece
by ghearradh that will draw you in and keep you enthralled.
The twist at the end will leave readers gasping, begging for more.
Featured by: SilverInkblot

judgementif you could see the bulletholes,
the brittle bones,
or if you could see me on a saturday,
with a cigarette between my lips,
a handwritten note clenched
in one fist, that contains
only a single word
goodbye
would you still smile
when you saw me on your porch
sunday morning?
judgement
by
alternativemeanings
A gentle lesson in perspective.
Prose
Featured by doodlerTM
:thumb363826144:
Of Birds and Wings
by
LadyOfSilver
An insightful and inspirational vignette
about destiny and the journey of life.
Featured by: SilverInkblot

His Big BreakAssigned a non-speaking role.
I'm speechless.
His Big Break
by
SCFrankles
SCFrankles is always ready with a clever pun,
even when limited to six words.
Foreign Language
Featured by shebledgreenink
:thumb336503873:
Diese
by
pascal-prevost
The metaphor of music is a trite one,
but

pascal-prevost

uses it expertly in this poem.
For more information, including how to suggest a Deviation
to be featured, please visit us at
DailyLitDeviations
.
Thanks so much for supporting the lit community and this project!
~ The
DailyLitDeviations
Team ~
Prepared by: SilverInkblot