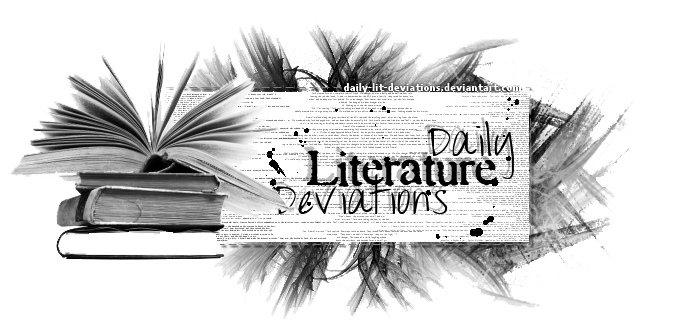 Guidelines
|
How to Suggest a DLD
|
Group Administrators
|
Affiliation
|
Chatroom
|
Current Staff Openings
Daily Lit Deviations for April 14th, 2013
We are proud to feature today's Daily Literature Deviations!

You can show your support by

ing this News Article.
Please comment and

the features and congratulate the artists!

For all of the featured artists:
If you receive a DD for one
of your pieces featured by DLD please note LiliWrites.
We will include you and your piece in a special recognition news article.

Poetry
Featured by: betwixtthepages

Dead Bird HeartI never noticed the way ash looks like feathers.
I become aware of the shores where my body
folds to meet itself, doubles over so that my hair
seems to grow like roots into the ground
keeping me from ever lifting my head again.
Of all the things she told me, she missed this one:
what to do with the ashes.
Hers is a dead bird heart—
grey-haired and grey-feathered.
She is paler than she has any right to be,
ashen—
But her eyes are open, and she can see the sky
where a roof once was.
Dead Bird Heart
by
AzizrianDaoXrak
The extended metaphor and gorgeous imagery
in Dead Bird Hearts by AzizrianDaoXrak
will bring readers to a dead halt at the end. The
descriptions of this are perfectly placed;
readers will be left begging for more.
Featured by: SilverInkblot

Rhapsody In Zero Gravity
Is deep space silent?
Amid the revolving spheres.
In perpetual night.
Or does God whisper?
Echoing across light-years vast.
Filling the void with song.
Rhapsody in Zero Gravity
by
Blacksand459
Taking on an unusual form, Blacksand459
crafts a contemplative, beautiful image.
Featured by: LadyofGaerdon

Nascent DeathDeath borders upon our birth
Such a barren wasteland embraced
within the Empress' nurturing bassinet
She envelops me in the ice-clad evergreens
And ivy baby-blanket; snaring, strangling -
The veins that bind. She is life;
Mother nature, Queen of repose
and fair Demeter. My eye
fixates upon the hollow, never-ending
sunlight. Where time has become a dazed,
gentle creek. This bizarre entrapment
shrouds itself in serenity. Seemingly endless
as I traverse to Styx
                               Yet now our cradle
            Stands in upon this weary grave
   Where, unbeknownst, smirking Hades knocks
A debonair Death; divining precious cards

Nascent-Death
by
ndris970
Prompted by the quote:
Death borders upon our birth,
and our cradle stands in the
grave, the author employs
multiple mythologies to plumb
the depths of the concept.
Prose
Featured by: SilverInkblot
:thumb361661807:
The Cruelty of Flowers
by
TheTerrorOfTheDeep
Get lost in the language of
flowers in this wonderfully written
series of connected shorts.
Foreign Language
Featured by shebledgreenink

L'affrontementL'affrontement
C'est aujourd'hui. C'est aujourd'hui que je le rencontre. C'est aujourd'hui que je l'affronte à nouveau.
C'était au secondaire. J'étais petit, timide et studieux. Lui était populaire et voulait un souffre-douleur pour se remonter. J'étais la victime facile. Pour ces gens-là, se compliquer la vie est inutile. Il n'avait même pas besoin de faire l'effort pour se trouver des idées. Il avait un groupe de copains pour cela. Je me rappelle la première journée. Il était en dessous d'un escalier en train de fumer des cigarettes avec des amis. J'arrive pour aller à mon cours, et lui et ses comparses me bloquent le chemin. Il me lance : « Je crois que tu t'es trompé d'école. » Cela devait être drôle parce que tous ses sujets riaient. Il m'a fallu passer par l'autre escalier. Le le
L'affrontement
by
christianross75
A touching story that reminds us
that everyone deserves forgiveness.
For more information, including how to suggest a Deviation
to be featured, please visit us at
DailyLitDeviations
.
Thanks so much for supporting the lit community and this project!
~ The
DailyLitDeviations
Team ~
Prepared by: spoems