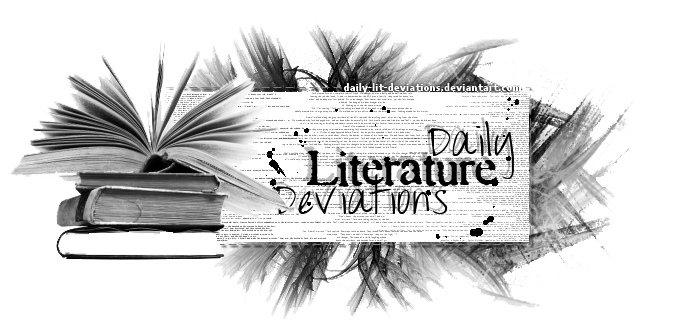 Guidelines | How to Suggest a DLD | Group Administrators | Affiliation | Chatroom | Current Staff Openings
Daily Lit Deviations for October 17th, 2013
We are proud to feature today's Daily Literature Deviations!
You can show your support by

ing this News Article.
Please comment and

the features and congratulate the artists!

For all of the featured artists: If you receive a DD for one
of your pieces featured by DLD please note `thetaoofchaos.
We will include you and your piece in a special recognition news article.

Poetry
Suggested by: *chromeantennae
Featured by: =DrippingWords

today is a new day andi am growing up out of my
bones and out of this skin and
this skin is growing roots down into
the core, the core of me
and myself and this skin
- oh, this skin
this skin is thicker than you will ever believe.
if you told me that you had sunflowers
sprouting from the corners of your
eyes then i'd have no choice but
to believe you. you are a child of the sun,
you have wheat growing under your
shoulder blades, you have been flecked
with a ginger paintbrush dipped in solar
rays, you are soft-lipped and you,
you are warm
i might be sunburnt but this organ is over
seventy kilometres deep and i can't feel
the touch of your uv arms underneath all
this wadding,
i don't want solace dripped over me like
tanning oil, not if i'm like this,
not if i'm different to how i was before
seasons change
"today is a new day and" by ~ellathepirate

Suggester says: "This piece is just
absolutely gorgeous. The imagery is stunning."
Suggested by: *haphazardmelody
Featured by: `TwilightPoetess

From the suggester: It's just brilliant.

Featured by: `SilverInkblot

UltrasoundYou - nervous,
chattering jaw,
knees
stacked up
like Lego blocks -
I wonder where
the baby will sleep
in your double
wide trailer.
In the ultrasound
room
of the clinic lab
your husband
rubs your
back,
belly,
holds your ankles
with his rough
hands.
But you're terrified
beside
the coffee machine
whine,
the smell of
latex
gloves
in your hair,
on your
hands.
Perhaps your baby
will be small,
his head
flat
and short
where he
came from your birth
canal,
screaming -
The first time
you love each other,
will be that moment,
when you hear
the other screaming,
same pitch,
same tone.
"Ultrasound" by ~ejectionletter

Pregnancy is as much a frightening event
as it is an exciting one; the last lines of this piece
are particularly strong.
Prose
Suggested by: *xlntwtch
Featured by: =DrippingWords

Working Outside the Law Sheriff Walgrove stared up at the cabin and grinned. He could see the shadow of the criminal he had been tracking as it moved back and forth in front of the windows. Must've thought he was safe, that he'd outsmarted the sheriff. Perfect. Soon it would be over. The chase had come to an end.
He approached the cabin slowly so he wouldn't break any twigs or startle any animals. Everything depended on the element of surprise tonight.
The door was old and broke easily under a swift kick on the sheriff's end. At last he was face to face with the son of a bitch who had murdered his niece.
"What in the hell are you doing? This is a private residence!"
Walgrove stepped in over the remains of the door and kicked off his boots. "Your running's done, Cade. It's time to settle up for your crime."
"What crime? What are you talking about?"
He tossed his hat aside and began to unbutton his shirt. "The murd
"Working Outside the Law" by =Tobaeus

Suggester says: "A worthy piece,
if only for the twist at the end,
which followed fine description."
Suggested by: =doughboycafe
Featured by: `SilverInkblot

The Suggester called this "cute and uplifting,"
and how could you not be interested with a title like that?
For more information, including how to suggest a Deviation
to be featured, please visit us at =DailyLitDeviations.
Thanks so much for supporting the lit community and this project!
~ The =DailyLitDeviations Team ~
Prepared by: `TwilightPoetess