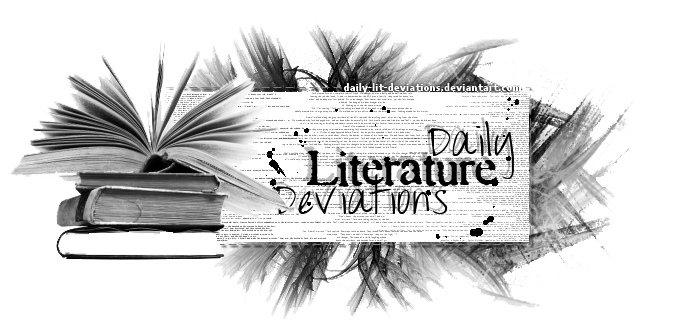 Guidelines
|
How to Suggest a DLD
|
Group Administrators
|
Affiliation
|
Chatroom
|
Current Staff Openings
Daily Lit Deviations for July 31st, 2013
We are proud to feature today's Daily Literature Deviations!

You can show your support by

ing this News Article.
Please comment and

the features and congratulate the artists!

For all of the featured artists:
If you receive a DD for one
of your pieces featured by DLD please note LiliWrites.
We will include you and your piece in a special recognition news article.

Poetry
Featured by LadyofGaerdon
<da:thumb id="384730463"/>
Seasons Nigh
by
SovereignSin
A delightful, summery sonnet.
Suggested by: intricately-ordinary
Featured by: DrippingWords

forest firesmy signature scrawled across all
of your sentences like a stain of apologies:
i'm sorry for anchoring you to my hip
like a one-sided promise, like a flood of insincerity.
i'm sorry for collecting you like a well of wishes,
for whispering you into every crack in these walls.
i do not have the depth to tether our limbs
with the tautness of our smiles, but i will
balance you on the edges of my knees until
you slip away.
i have been kneeling with my arms outstretched
waiting,
but the divinity of your touch
never graced my expectant stance.
our bones built forest fires together,
but it was always my tears putting them out.
"forest fires"
by
learningtobefree
Suggester says: "learningtobefree
is such a lovely writer

In this
original kind of conversational
poetry, she paints and shares
with us the unconventional beauty
and pain of a relationship."
Suggested by: intricately-ordinary
Featured by: DrippingWords

voidfriendi.
her eyes
never land.
a scape claimed
no matter how sharp
her intake,
or the orbits
aligned by her will,
or the scope
of the aperture
filled.
lips fueled
and begging
to be ignited.
ii.
she can't fight it.
cracks in the visor
and pressure leaks.
a void
asking her hand
and her peace
as the tip
of her tongue
starts to freeze.
spidered sight
and face
like a shard
divided.
iii.
"if i have to be breathless,"
she finally states,
"i'd prefer it to be by the trident."
"voidfriend"
by
gliitchlord
Suggester says: "Voidfriend
masterfully uses enjambment
and imagery to tell the painstaking
process of an emotional detachment."