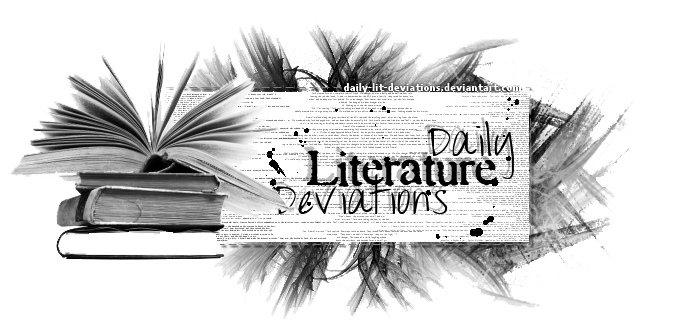 Guidelines | How to Suggest a DLD | Group Administrators | Affiliation | Chatroom | Current Staff Openings
Daily Lit Deviations for December 18th, 2013
We are proud to feature today's Daily Literature Deviations!
You can show your support by

ing this News Article.
Please comment and

the features and congratulate the artists!

For all of the featured artists: If you receive a DD for one

of your pieces featured by DLD please note thetaoofchaos.
We will include you and your piece in a special recognition news article.

Poetry
Suggested by: CelestialMemories
Featured by: TwilightPoetess

To GrandfatherI lost him
in the ruins of his lungs.
Everyday
I go out of myself
looking for him
in the mirror
& autumn eyes
filled with dirt water
is the only resemblance
I struggled
to paint his face
with
Dear grandfather,
I go out looking
for you everyday in the cemetery
hoping your soul
could knock at my eyelids.
I lost everything
in the ruins of your lungs
but your hands
are the only things
I yearn for.
To Grandfather by brokengod--veins
From the suggester: An incredibly
sentimental piece to the artist, the writer's
desire to be with her grandfather again is the same feeling
we all have when we have lost a loved one.
The sad anticipation in this is very interesting.

Featured by: TwilightPoetess

4 things about a boy who called himself man1.
he would reply,
"well, you asked for a man, didn't you?"
and i would have to press my
whole-lotta-honey colored lips together
and whisper,
"and i got one, didn't i?"
his words were always cold when he was with me.
2.
the thing i loved most
about him was the fact that he wanted
to teach me.
about the things he loved,
about music, about appreciation,
and i think at some point he wanted to teach me
love.
(he just didn't go about it
the right way, i don't think.)
"i want you to have these experiences,
even if we don't
end up together."
and i guess that should've been
my warning sign.
y'know:
that we weren't going to end up together.
3.
it's not easy to remember the little
stuff about me.
it's not easy to remember
all my little dates and the fact that
i'm sick or need medicine.
(and i guess
that since he was the first one to do it,
it just attracted me more,
and i suffered for hoping that he loved me,
too.)
it's not easy to remember me.
but i don't think he'll forget me.
4.
sometimes, wh
4 things about a boy who called himself man by A-Lovely-Anxiety
We tell ourselves a lot of things to get through the day.
At the end, though, all we're really left with is the truth.
Prose
Suggested by: SpiralingSpontaneity
Featured by: SilverInkblot

he cried because no one cried for himI found Death crying in the alleyway underneath my apartment window. He crouched, shaking and whimpering out his little mouse of a cry that was muffled by the rumbling cacophony of city night life. He didn't make himself seen and, like the child he was, huddled down and hid his face with his mitten-covered hands.
Death made eye contact with me as I watched him from the fire escape. He stared with bright blue eyes perfectly framed with long eye lashes. The chill bit and reddened his nose and cheeks, and his tears left frozen paths of black ice against his face. I didn't mean to, it was an accident, he pleaded with me.
I watched him as he shamefully picked up his victim, a tiny little kitten that was half frozen and curled tightly into itself. He tried to stroke it back to life, begging and pressing the small animal into his plush winter coat.
I'm sorry, he lisped, wiping snot onto his sleeve as he cradled the corpse like a beloved baby doll. My eyes followed his tiny
he cried because no one cried for him by CelestialMemories
Suggester: "A thought-provoking, brilliant idea,
made even more marvelous by its wonderfully
poignant and insightful execution."

DeleteFingers fly across the keyboard, and soft, kind words pop up on the screen in disjointed segments, eventually forming sentences that blossom into a poetic verse despite their scattered and halting beginnings. Incoherent thoughts and barely conscious wishes are pulled out of the consciousness and channeled into the fingers, which in turn drum out a weak heartbeat on the lettered keys, turning emotion into words. Imagination flies, ideas entertain, and he cannot help but smile a little, bathed in the cold light spilling out from the computer screen as the whiteness is slowly overtaken with black characters.

The clacking of the keys conveys what he could not hope to say with his own mouth. Longings and pains are expressed as if they were screamed aloud, but the room is completely devoid of human voice. Memories and dreams collide with a sort of childishness, but they are equally silent, confined to a sheet of nonexistent paper.

A new thought bubbles to the surface of his min
I love the use of formatting
that leads the eye around the page
and the unique take on an unrequited love letter.
The letter-by-letter deletion of the word "memories"
was especially effective in conveying the point.
For more information, including how to suggest a Deviation

to be featured, please visit us at DailyLitDeviations.
Thanks so much for supporting the lit community and this project!
~ The DailyLitDeviations Team ~
Prepared by: TwilightPoetess