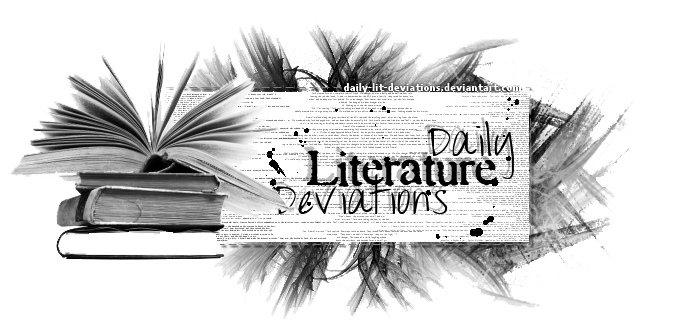 Guidelines
|
How to Suggest a DLD
|
Group Administrators
|
Affiliation
|
Chatroom
|
Current Staff Openings
DLD to DD January 6th, 2013
Featuring these Special DLDs is an honor!
You can show your support by

ing this News Article.
Every so often a DLD is featured as a Literature Daily Deviation and displayed
on the deviant ART front page. We would like to give special recognition to those
that have received this honor. We would like you to revisit their work, enjoy
the pieces and congratulate the artists. Please comment and

the features!

If you receive a DD for one of your pieces featured by DLD please note
LiliWrites
.
We will include you and your piece in this special recognition news article.

Received Daily Deviation March 7, 2012
Originally Featured by spoems

l'hiver.(you can't tell the birds and the snow apart in the sky:
the grand church of dizzying space - )
and the trees are yellowed in cowardice, raking the sky
to the ground and around and around.
listen to your organs: the almost grand piano of the
churches i'd never attend.
and never mistake the courage of the sky for the cowardice
of the ground. never frown, never frown.
listen to your palms: the salty swing of the old snow
burning up on silk and splendor.
and visit the dying snow birds in their graves of the
ground, and they drown and drown.
(you can't tell the birds and the snow apart in the sky:
a grand church of dizzying space will reply. why. why.
would my white birds die.)
l'hiver
by
nighttimebeautiful
I hope you find its cadence
as hauntingly ethereal as I do!
Received Daily Deviation March 9, 2012
Originally Featured by Leona629

Happy HollowLook:
I found him in Happy Hollow, the woods that's on the outskirts of the city. He was a little ways off the path me and my sister, Nahla, take to school, 'cept Nahla was sick that day so it was just me by myself. It's not the fastest way to get to school, but we can't go through Northampton or else the bullies that live there will throw dirt clods at us. After I found him I took him to this old shed out there. It's got a hole in the roof but I figured the little guy'd be safe there on account of it's a good ways away from the Northampton houses; plus you can't hardly see it through all the leaves and branches and stuff. His fur was real white and real soft, just like snow 'cept it wasn't cold. It was warm and fuzzy so it made you wanna squeeze him real tight. I liked playing with his ears cuz they was all floppy, 'cept when you made a weird noise, then they'd stick straight up and he'd tilt his head sideways and look at you funny. He had a long bushy tail and sharp little baby teeth
Happy Hollow
by
BadNarrator
A fantasy laced with commentary about
being "different," told from the point
of view of a child in a new place.
Received Daily Deviation March 9, 2012
Originally Featured by Carmalain7

LevitationObserve.
This is how women walk away.
In broken heels
and secondhand jackets,
cigarette smoke in their hair
and no kiss goodbye.
Do not mock.
It is what it should be.
A girl in a car,
hanging a u-turn
on a glistening, empty street.
Her body is a road to be traveled.
A shipwreck to be plundered.
She does not know how she got here,
and she does not care.
And it does not matter.
This is how women smile.
Knowing, secretive,
though her cheeks are sore.
Though the wind
is blowing right through her clothes.
Though there is no good music
on the radio, and no food
in the refrigerator.
This is just an impression.
An idea of nirvana.
A slice of real, live ecstasy.
But do not give it a name.
Just show it, wear it like
designer jeans.
Tight against the skin.
She is ivory, she is easy,
and it is not love.
It is something better,
fermenting at the
backs of her knees.
Flooring her.
Bleeding from her fingerprints.
It is a devastation,
seven ways from Sunday,
but that is how she likes it.
It cannot hurt
Levitation
by
Blood-Lace
A song, a story, a mantra, a lesson?
I'm not sure but I am sure that
there is wisdom here and that this story
is more than ourselves.
For more information, including how to suggest a Deviation
to be featured, please visit us at
DailyLitDeviations
.
On behalf of the Lit community and
DailyLitDeviations
, your support of this project is appreciated!
~ The
DailyLitDeviations
Team ~
Prepared by: LiliWrites