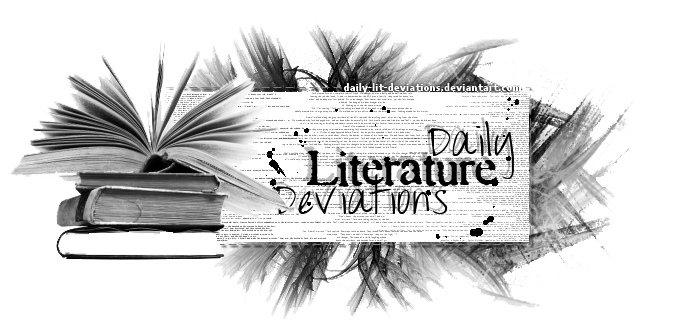 Guidelines
|
How to Suggest a DLD
|
Group Administrators
|
Affiliation
|
Chatroom
|
Current Staff Openings
DLD to DD December 30th, 2011
Featuring these Special DLDs is an honor!

You can show your support by

ing this News Article.
Every so often a DLD is featured as a Literature Daily Deviation and displayed on the deviant ART front page. We would like to give special recognition to those that have received this honor. We would like you to revisit their work, enjoy the pieces and congratulate the artists. Please comment and

the features!

If you receive a DD for one of your pieces featured by DLD please note damina.
We will include you and your piece in this special recognition news article.

Received DD on September 24th, 2011
Originally Featured by: LiliWrites

Poem Translated...Listen to the caw. He calls in fear
for his mother, shouting: This is my voice
being put to rest. A whole. A breve.
                                                    Will you
lay your cupped hands around my waist, kiss
the bones no one cares to kiss? The scraped
elbow, the pinky. My tenor cleft chin.
                                                      I know
you cannot hear me from the way you swing
the jib, catching this light breeze off Erie. Already
the sail's
"Poem Translated..."
by
jswebb
I love the mixture of music, sailing, and nature
in this piece. They are three things you wouldn't
think could work so well together, but they truly
compliment each other beautifully.
Received DD on September 30th, 2011
Originally Featured by: Kitri-du-Lac

The Year of the BearI ignore the first prominent crackle in the underbrush to my left. It's most likely a squirrel, and I've seen plenty of those. One more does not interest me.
It's early August in northern New Jersey and it's hot enough to melt butter even in the leafy shade beneath the oaks at the edge of the pond. The heat makes me so lazy that I don't even want roll my head sideways on the battered plastic pool chair for a glance to the left. Anyway, Dracula is getting exciting. I ruffle the pages to go in my face, wishing that a real breeze would blow across the water.
An answering ruffle of leaves does not surprise me. If it's not a squirrel then it's probably my dog out patrolling her territory for new, alien smells. A crackle of brittle twigs from the same direction must be more squirrels, and a light slosh by the edge of the pond is just another trout belly-flopping as it gulps a bug off the surface. Finally, a quick succession of loud, crisp snaps--Chinese firecrackers in miniature--earns my at
"The Year of the Bear"
by
BookLyrm
This piece of non-fiction is an excellent informative
account of the nature of a wild animal and the problems it
faces in the modern world. By mixing anecdotal stories with
factual information, the piece retains the interest of the
reader and provides an enjoyable read.
Received DD on October 2nd, 2011
Originally Featured by: pullingcandy

The Piano DemonThe first time I saw her - really, really saw her, not just glanced at her as we tried our best to catch the back seats in the small university classrooms - she was at a piano. Maybe I'd never have really been able to notice her had it not been for that one, strange evening when destiny gently pushed me out of my awkward life and into hers.
If only children can be prodigies, then I wasn't one any longer. I'd lived through my glory years at school, where I'd gone off and won prizes for art and English, maths and physics, running circles around classmates and less talented professors. Eventually, when push came to shove and I had to figure out what I wanted to do with my life, I hid behind some more studying, delaying that dreadful moment when I'd have to prove that not only was I smart, but that I was also able to do something. I chose English and physics as majors, convinced I could do both easily enough. I wasn't right. I wasn't very wrong, either. There wasn't much of a personal life
"The Piano Demon"
by
TheOtherSarshi
A wonderfully scripted story which reaches
out and touches you in different ways as you go
through it, perhaps more than once. I know I
read it twice myself. Beautifully done.
For more information, including how to suggest a Deviation
to be featured, please visit us at
DailyLitDeviations
.
On behalf of the Lit community and
DailyLitDeviations
, your support of this project is appreciated!
~ The
DailyLitDeviations
Team ~
Prepared by: damina