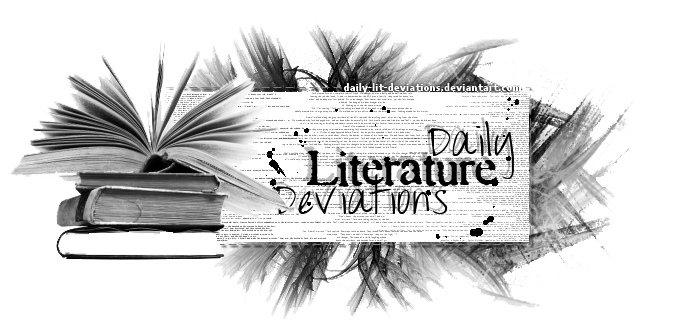 Guidelines | How to Suggest a DLD | Group Administrators | Affiliation | Chatroom | Current Staff Openings
Saturday Spotlight for 12/7/2013
Daily Literature Deviations is proud to feature this special recognition article!
You can show your support by

ing this News Article. We hope this gives you some insight into the person behind the art. Please comment and

the features and congratulate the artist!
Today's featured deviant is:
Questions
1. Tell us a little about your writing process?
I usually brainstorm in my journal, which also gets filled with all of my life details as well. I pull anything from my journal that I could use in my writing, so sometimes I work my life into what I write. I do most of my writing on the computer, and I always have to have music on. I can't write at all in silence.
2. How do you feel about dA as a lit community?

I think dA has a really amazing lit community. The are so many talented writers here, and there's a great mix of new, emerging writers, seasoned writers, and everyone in between. I also love that so many of the members of the lit community here are really active, providing challenges and prompts, running contests, and helping fellow writers. I haven't found a better lit community.
3. Are there any authors that have influenced your work?

Oh boy, there are a ton. I love E.A. Poe for everything he wrote, and he's been a favorite of mine since I was a kid. I love fantasy, so I'm a big fan of authors who write high fantasy. J.R.R. Tolkien is a big influence of mine, as is a current author, R.A. Salvatore.
I'm also inspired a lot by authors like Douglas Adams and Terry Pratchett, because all of their books are so unique and inventive.
4. You write both poetry and prose! Do you find one comes easier to you than the other? What do you like most about each?

I think prose is easier for me in some ways, because I usually write the same way for each story. I've fallen into a point of view that I prefer, so I have an idea of where I'm going stylistically each time I sit down to write prose.
With poetry, however, I try to challenge myself every time I write, and I like to try new forms and styles. I love writing poetry because of that challenge, though. I love writing poetry because it's such a flexible way to express an idea.
My favorite thing about prose is that I can focus more on a story, and not on how it sounds.
5. Do you have any literature-related goals?

I do! Right now I'm editing an anthology of my stories, and hoping to kickstart it and self publish before the end of the year. It's a sci-fi and horror anthology, and it'll have themed poetry as well as short stories. I'm really excited about it.
I've been submitting poetry to different journals, and I'm also plotting two books. One book will be for NaNoWriMo this year, and the other is going to take more time. I hope to finish those, and then think about the next step.
Poetry

Some zombieI spread the cards out,
some intelligent zombie
playing at human.
"Some zombie" by *IntelligentZombie
"Stay" by *IntelligentZombie
Prose

Ktenology The dead weight was slowing him down. He struggled with the body, testing his own limits to drag the sack across the ground. The terrain of the woods tore into the bag, rending gashes in the black plastic skin. It was beginning to leak.
Despite the trail he was leaving, he didn't rush himself. No one was going to find this body. None of the clues would remain, and he had faith that this incident, like all of the others, would be swallowed up in the shadows.
There were enough shadows in this forest to hide what he done. A stream bubbled and frothed not far from here, and it fed into a larger tributary that eventually found the river. He had quenched his thirst from the banks of the stream many times, and watched it lick the blood from his skin. In return, he had watered the pines with the blood of men like the one in the sack.
The sun was warm and deep where it fell through the trees, slipping th
"Ktenology" by *IntelligentZombie
"Snapshots of Visitors" by *IntelligentZombie
For more information, including how to suggest a Deviation to be featured, please visit us at

=

DailyLitDeviations.
Thanks so much for supporting the lit community and this special feature project!
~ The =DailyLitDeviations Team ~