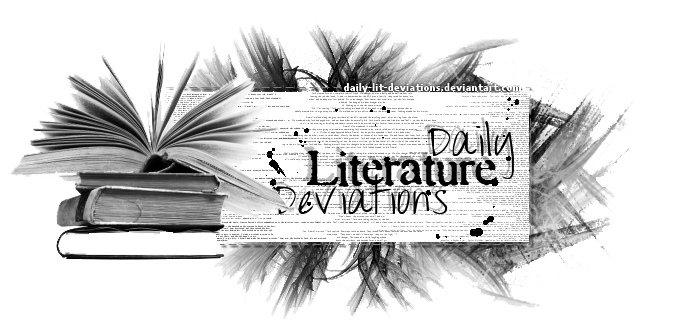 Guidelines
|
How to Suggest a DLD
|
Group Administrators
|
Affiliation
|
Chatroom
|
Current Staff Openings
Daily Lit Deviations for March 9th, 2014
We are proud to feature today's Daily Literature Deviations!

You can show your support by

ing this News Article.
Please comment and

the features and congratulate the artists!

For all of the featured artists:
If you receive a DD for one
of your pieces featured by DLD please note thetaoofchaos.
We will include you and your piece in a special recognition news article.

Poetry
Suggested by: Edges-to-Everything
Featured by: thetaoofchaos

Bounce the NeedleI write
to interrupt
your rhythm
and breath
to somehow
bounce the needle
out of the groove
we're cutting here
And I write
to sicken
your system
to cut the
red wire
and yank out
the rest
quiet now,
we're cutting here
Breathe
against
the
heart
shaped
clock
now stop
and kick
we're cutting here
Bounce the Needle
by
BlackBowfin
From the suggester: "This poem is spare, fresh
and urgent. Needles, grooves and beats are cut
into a mix of possible metaphors ready to
shake one out of complacency."
Suggested by: Fragments-of-a-Pawn
Featured By: WorldWar-Tori

a question of enduranceI wonder if my heart
will ever grow tired
of its repetitive seizing,
will want more rest
than the scant pauses between
its breaths
can afford it—
if I will be obliged
to draw it, glistening,
out of my chest, to
cradle it in my palm
like a bird, dark red and shuddering
in its wanton plumage—
if, when it is rested,
(its role in the mean time
having been supplied
by my opposite fist, or branches
of lungs, or sheer
force of will),
I will slip it back into its assigned
hollow
and feel it stutter into life again.
I wonder if the stain will remain
on my hand.
a question of endurance
by
toxic-nebulae
Suggester Says: This poem contains so
much emotion, and leaves the reader with
something to think about. The language is
beautiful, diverse, and unexpected.
Suggested by: TheGlassIris
Featured by: thetaoofchaos

The realist must explain why he dislikes sleeping-Just visualise; from being pillowed in reassuring solidity
everything at once becomes water, and you're
drawn back under the hollows of your eyes –
slipping beneath the sheen of exposed consciousness
(a trembling softness on the surface of the sea)
to a pulsing blur of fragmented visions –
a twinge as the dam breaks; your tides of subconscious
loosen and mingle: rationale dissolves like sandstone
under the massing flood, smeared with distortion –
the ocean lives around you. A plethora of colour
wreathes between your ears, stewing and coiling,
sunk into the thickening smog of insanity –
to the vulnerable depths you have long
learned to fear, and your breathless hallucinations
mark a world buried beneath all your logic –
for even on waking, lightening, the rose-glazed dreams
still seep through your irises, and the world glistens
with the false glamour of drizzle-tainted stone –
even on waking, lightening, the cloying waters
swell within your lung
The realist must explain why he dislikes sleeping-
by
Lollip0p33
From the suggester: "With highly effective use
of sound devices, this is a mental exploration into
a dreaming mind filled with subtle disquiet and
turbulent thought. A neurotic and
intelligently-structured poem."
Prose
Featured by: thetaoofchaos

The PlaylistOne of the things I always liked about Sonama was their rooms weren't clinically cold. None of the stark white cabinetry and walls I saw at other places I had checked out. While they all used the standard beds and plants, Sonama felt more natural. Like stepping into the guest room at a quaint bed and breakfast, with warm textured walls and overstuffed duvets surrounded by small floral print curtains. My room had colorful quilts piled on top of an antique armchair besides a mirrored dresser, with stuffed bears and quirky knick-knacks crowded into all four corners. The plants and flowers were real, too, and you could smell their freshly watered soil, although they did little to mask the strong scent of over-bleached sheets.
I didn't mind that, though.
I always loved the smell of bleach. It reminded me of childhood summers spent in the swimming pools at the bath and tennis club, diving for quarters and playing Marco Polo, splashing and screaming amid a sea of agitated adults. And th
The Playlist
by
safia3
Upon considering the end of our lives, we are often
compelled to reminisce about each important moment in
our past, pondering their personal meaning, like recalling
how we still feel during a procession of handpicked songs.
Featured by: thetaoofchaos

pupillaeIt was only two months ago when you had the procedure. You can no longer remember why. You know only that you must have liked the idea of your eyes tasting shapes. You had money. Maybe that was all the reason there ever was.
For a month, your life was normal. Your brain was still learning to process the new input. Sometimes you would vaguely taste oranges when sitting at your computer. Or catch yourself thinking that the letter O seemed sour. Or avoid a restaurant that served food on oval plates, because some ovals taste like bad coffee.
You can't pinpoint the day you first spent over an hour staring at squares. You had not meant to. It was just, they tasted kind of like cake, but like a better cake than any you'd ever had. It was hard to pull away.
Nor can you pinpoint the day you first threw up at the sight of a 32º angle. It tasted like urine and skunk. You are today afraid you will encounter another
pupillae
by
Atheshya
A bizarre and fascinating flash fiction piece
about an unlikely support group fighting to restore
normal perception.
For more information, including how to suggest a Deviation
to be featured, please visit us at
DailyLitDeviations
.
Thanks so much for supporting the lit community and this project!
~ The
DailyLitDeviations
Team ~
Prepared by: thetaoofchaos