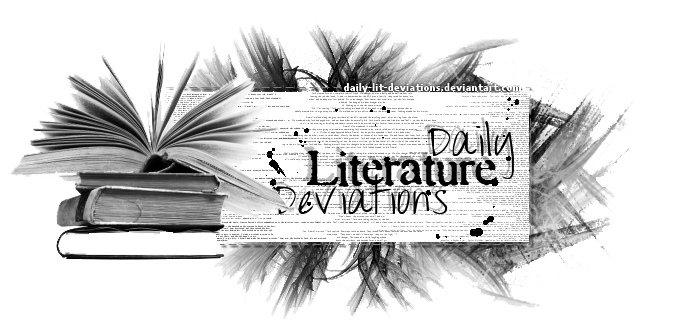 Guidelines
|
How to Suggest a DLD
|
Group Administrators
|
Affiliation
|
Chatroom
|
Current Staff Openings
Daily Lit Deviations for May 23rd, 2013
We are proud to feature today's Daily Literature Deviations!

You can show your support by

ing this News Article.
Please comment and

the features and congratulate the artists!

For all of the featured artists:
If you receive a DD for one
of your pieces featured by DLD please note `LiliWrites.
We will include you and your piece in a special recognition news article.

Poetry
Suggested by: ~failuresnirvana
Featured by: =DrippingWords

TemponautSundays: no one's butterflies are
going to affect the wavelength
of the sun magnifying ants
(nothing will happen anyway).

Rewind, the air wrinkles into
sundays: no one's butterflies are
stuck on weeping quicklime (not yet)
that doesn't hesitate; floor it.  

High-pitched tires are slashed by the
hissing water, parked sometime on
sundays: no one's butterflies are
run over by broken sunshine.

One last time to make this right, keep
blinking back - stop flapping its wings
'fore they reek like pelting rain from
sundays: no one's butterflies are...
"Temponaut"
by =
slowslicksnails
Suggester says: "I am suggesting
this deviation because the person
wrote this so effortlessly with beautiful
hints towards the butterfly effect. It is
definitely one of the best time travel
poems I have read on this website."
Suggested by: *homunculus888
Featured by: =TwilightPoetess

DysphoriaWe were prodigies of insecurity and
clashing ivory skin on ivory
love, love, love
(the syllables are strung upon your bedpost
like wringing hands and tripwires)
I'm synesthetic red and aching
with envy for your wretchedness and
I would be hard pressed to find you anything but blinding.
Dysphoria
by ~
ColorBlindSushi
~ColorBlindSushi brings the
feeling of unease--of being
caught off-guard by something--
to this piece with beautiful imagery
and a well thought-out metaphor.
Prose
Featured by: =SilverInkblot

Car RideRaises volume.
It's still too quiet.
Car Ride
by ~
creampuffluvr
In a quick snapshot, ~creampuffluvr
sums up every awkward car ride ever.
Suggested by: =TwilightPoetess
Featured by: =SilverInkblot

choose full or emptythis is new.

this is new in the way of shocked reflections and wailing newborns, in the way of new lovers and old flames, burning bright, burning fierce, burning out. coals in the hearth and ashes on my tongue, tastes and flavors and prayers and curses, all burnt out. their lives are gone, given up for cause after cause, and no one mourns the match that strikes a bonfire. no one wonders what happens when a pouf of sulfur and oxygen and friction combine. no one asks whether the match was ready, whether it should be saved or just do its duty. i wonder if emerson's books burned like this, if they sent smoke-prayers down to heaven or up to h
choose full or empty
by ~
SilverPhoenixFire
Suggester: "This short prose
piece takes some old metaphors
and re-imagines them. The last
paragraph is powerful--and so, so true."
Featured by *doodlerTM

It Was a Dive     She finally went off the deep end. It wasn't a slow event. The girl looked at the olympic-sized pool first, knowing what little kids added there. That didn't make her happy, so she turned her back on it to stand, heels hanging over the edge of the diving board with only her toes plus the balls of her feet to grip it. Then she sprung to make her backflip dive.

    Penny made a clean dive -- barely any water splashed. She was proud of that, glad her brother watched it to make sure anyone interested would know. She came close to adding pollution to the public pool herself, she was so relieved.

    Penny climbed out to crow with her brot
It Was a Dive
by *
xlntwtch
A whimsical story about
achieving one's dreams.
For more information, including how to suggest a Deviation
to be featured, please visit us at =
DailyLitDeviations
.
Thanks so much for supporting the lit community and this project!
~ The =
DailyLitDeviations
Team ~
Prepared by: =LadyofGaerdon